Disney: Making people cry since 1937. 
This little girl right here is my cousin, Madison. She was born with down syndrome. Everyday after kindergarten she comes home crying because people say she looks weird or she shouldn't have no friends because she's ugly. It so heart breaking to hear Her talk about how she wants to be 'pretty like the other girls.' please reblog so I can show her that people think she's beautiful the way she is.

oh my god, she's such a little sweetie pie!!! ;u;
Do you ever think that all these people who read "50 Shades of Grey" should try reading something by the Marquis de Sade?
Currently Reading
Does anyone else feel that the more the A Song of Ice and Fire series goes on, the more Martin insists on writing about characters and stuff we the readers could care less about? Because most everyone of importance has been killed off. Have you just given up because you don't care anymore?
"We need the books that affect us like a disaster, that grieve us deeply, like the death of someone we loved more than ourselves, like being banished into forests far from everyone, like a suicide."
Reblog if you love The Night Circus.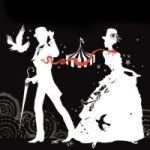 "Right thing? If for one day everybody in Washington tried to do the right thing, you'd come into both houses of Congress there'd be mass suicide!"
- Roy Cohn, Citizen Cohn